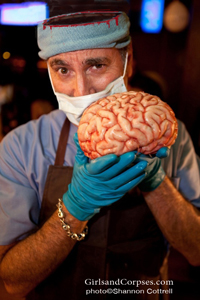 Robert Corpsy Rhine's Interview with writer/director Chad Ferrin about his latest film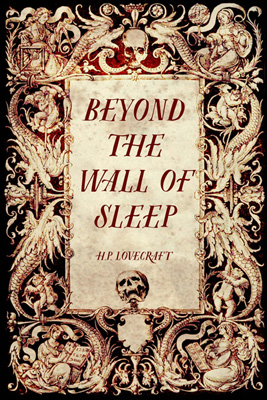 CHAD FERRIN's THIRD H.P. LOVECRAFT FILM ADAPTION,
"BEYOND THE WALL OF SLEEP," SET TO START FILMING December 4th in LA
G&C: Chad, tell us about your upcoming H.P. Lovecraft film, your third in the H.P Lovecraft series which you have made, starting with The Deep Ones and followed by The Old Ones. What's the new film adaption about, who stars and why you want to make it?
Chad Ferrin: I've weaved characters from my first film Unspeakable into H. P. Lovecraft's Beyond the Wall of Sleep to create a smorgasbord of cosmic horror.
G&C: Who have you cast for this one?
Chad Ferrin: A fantastic cast that includes: Eddie Furlong, Susan Priver, Robert Miano, Jake Busey, Ginger Lynn, Steve Railsback, Robert Rhine, Elina Madison, Jennifer Drake, Timothy Muskatell, Silvia Spross, Corey Love, Brandon Kirk, Jeffrey Decker, Roger Garcia, Suzanne Sumner Ferry, Jerry Irons and Bai Ling.
G&C: How does your film Unspeakable release to this Lovecraft adaption?
Chad Ferrin: The nightmare aspect of Unspeakable fit so well into Lovecraft's story that it pretty much wrote itself and the excitement of seeing characters from Unspeakable 25 years later is beyond thrilling.
G&C: Thanks Chad. Sounds like you will have a great trilogy here! And I am looking forward to working on our 7th film together!
*The Deep Ones and The Old Ones are both now streaming and available on BluRay. Check your local listings.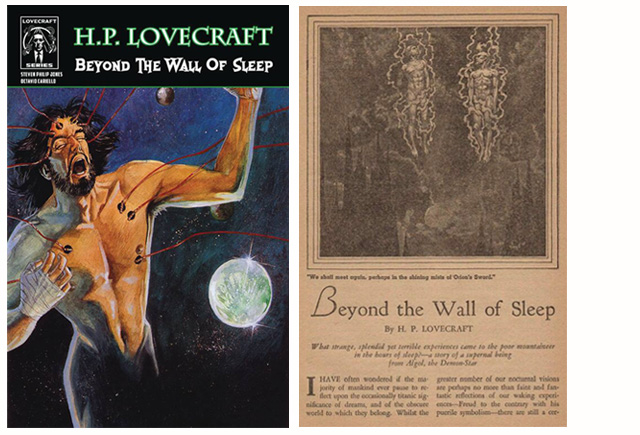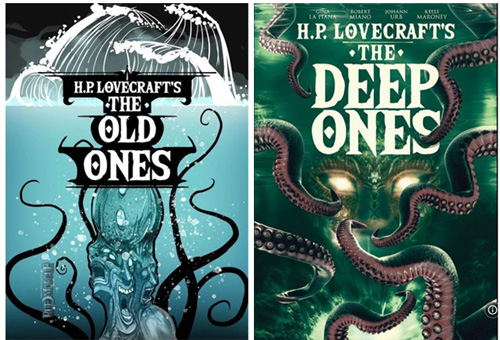 Director CHAD FERRIN A Cut Above
The busy horror/thriller director takes another slice at Night Caller with the sequel, SCALPER, starting production this month.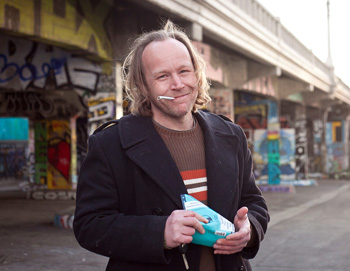 Robert Corpsy Rhine's Interview with writer/director Chad Ferrin
Corpsy: Chad, I have had the pleasure of working with you as both a producer and actor on six film, which you have directed for The Girls and Corpses label: The Chair, Parasites, Exorcism At 60,000 Feet, Night Caller and now the upcoming Scalper, the sequel to Night Caller (winner of eight international film festivals). How does this follow up story advance the narrative in this sequel?
Chad Ferrin: In Scalper, everyone around psychic, Clementine Carter, is being brutally murdered by a crazed killer, dubbed "the Scalper." The question... Is Andrew Lubitz back from the grave, a copycat killer, or a horror beyond imagination? Clementine must use her second sight to save her friends and stay one step ahead of the maniac's blade.
Corpsy: Who from the original Night Caller film are returning to their role in Scalper?
Chad Ferrin: Susan Priver, Bai Ling, Robert Miano, Kelli Maroney, Steve Railsback, Silvia Spross, Robert Rhine.
Corpsy: Any new actors who were not in Night Caller?
Chad: Yes, we've also added, Jake Busey, Kate Patel, Jon Budinoff, Kurt Bonzell, Jennifer Drake and Elina Madison from my last film Pig Killer (out in 2023).
Corpsy: How would you describe the cinematic vision style of Night Caller and Scalper?
Chad Ferrin: They're both heavily Giallo inspired but Scalper will have a double dose of the supernatural elements.
Corpsy: Since you are a huge cinephile, which directors do you think best describes your visual style?
Chad Ferrin: Sam Fuller and Mario Bava with the budgets of Al Adamson.
Corpsy: In Night Caller you made several references to vintage horror films. Will you be repeating this and what do you look for in a vintage film to add to your horror films?
Chad Ferrin: YES!!
Corpsy: Thanks Chad for checking in before beginning reduction on Scalper. I am looking forward to reprising my rose and Detective Fuller from Night Caller in Scalper!
Chad Ferrin: See you on set Corpsy!
Note: Night Caller is now streaming: On Amazon, iTunes, Google Play, Vudu. Tubi, RealChill, Prime Video or Apple TV on your Roku device. Watch the Night Caller Trailer here.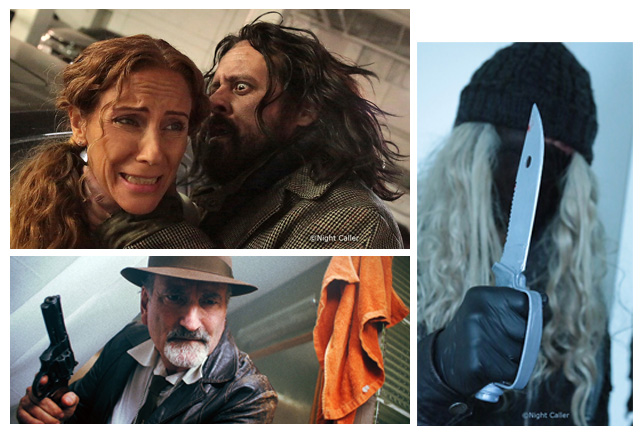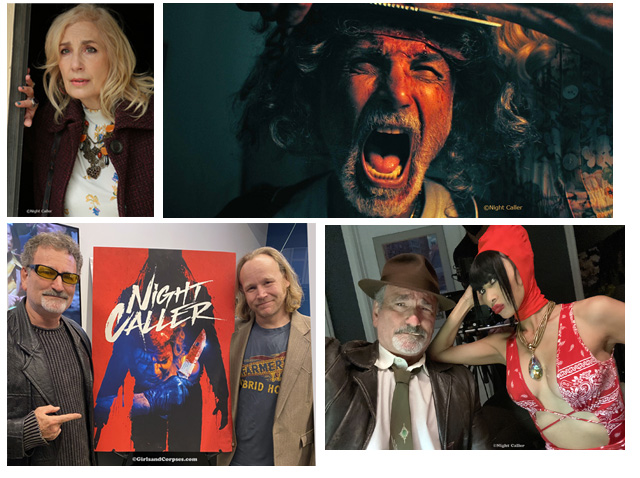 Photos from Night Caller @Night Caller Productions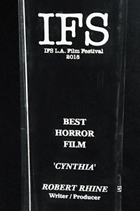 CYNTHIA wins 2018 Best Horror Film Award at The IFS Film Festival at The Grove.
Click here for video and pics.
Girls and Corpses Presents
Exorcism at 60,000 Feet
click here for complete story
Exorcism at 60,000 Feet, from Girls and Corpses Presents, wins five top awards at Hollywood Horrorfest. Watch Q&A with stars, including Lance Henriksen
Reviews for Exorcism at 60,000 Feet

enlarge

'CYNTHIA'
has completed production

Girls and Corpses Presents a Gage/Downs Film a dark comedy/horror
| | | |
| --- | --- | --- |
| | | Sneak Preview of Girls and Corpses Presents movie wraparounds with hosts TERA PATRICK and CORPSY. Click to watch. |
| | | |
| --- | --- | --- |
| | | NEW!!! SICK illustrated comedy book "LAST LAUGHS: Gallows Humor" from the creator of Girls and Corpses Magazine. Order now here |
| | | |
| --- | --- | --- |
| | | Girls and Corpses visits the 2016 AEE/AVN Adult Convention at The Hard Rock Hotel in Las Vegas! Three sexy videos! |
Corpsy and Jin N Tonic interviewed on TradioV 'Inside Metal'
Listen to Corpsy on The Statement Show podcast with Zach and Terry
Corpsy's interview on Idea TV at ScareLA
| | | |
| --- | --- | --- |
| | | Rowdy Roddy Piper (RIP) gives his last interview to Corpsy behind-the-scenes of Piper's last film THE CHAIR. Click to watch |
| | | |
| --- | --- | --- |
| | | Rowdy" Roddy Piper's last interview with Corpsy was covered worldwide: |
GLOW IN THE DARK MARIJUANA LEAF KEYCHAIN plus Girls and Corpses Medical Marijuana issue package deal! Save 20%
Click to order now!


Realm of Horror (UK) gets onboard for our Summer Island issue
| | | |
| --- | --- | --- |
| | | Robert "Corpsy" Rhine has completed acting roles in the feature films 'Frankenstein Created Bikers' (shot in Atlanta) directed by James Bickert (Dear God No) and 'You Found Me' directed by Lawrence Nelson (The Mangled). Rhine has also been cast in Parasites (directed by Chad Ferrin 'The Chair') and the feature film 'Attack Of The Bimbos' (directed by Don Richardson). Robert Rhine is also Executive producer on Rob Zombie's '31' and also Executive Producer on 'The Chair.' He is the Co-Producer of 'You Found Me.' Rhine can be seen in the film Strangely In Love (premiering Friday, July 31st 8pm at the TOPANGA FILM FESTIVAL.) |
| | | |
| --- | --- | --- |
| | | The Girls and Corpses Channel hosted by Corpsy, launches Friday February 13th on The Movie and Music Network. Stayed tuned! |
| | | |
| --- | --- | --- |
| | | Corpsy will be at AEE/AVN January 22-24th, for the 5th year, to interview the top XXX adult stars you will never touch. |
Production wraps on Aliens VS Titanic Co-Starring Robert 'Corpsy" Rhine (as the Captain of The Titanic with Bree Olson) Layla Pryce and Tasha Toscana.

Click here for photos.

Story covered here:
DREAD CENTRAL - ALIENBEE - DOC TERROR
| | | |
| --- | --- | --- |
| | | Corpsy's pal SID HAIG returned for the second year to the Girls and Corpses booth at ScareLA. |
| | | |
| --- | --- | --- |
| | | The Huffington Post says, "Farrah Abraham, Girls And Corpses Magazine Cover Girl, Is 'Dead Sexy' More here |
| | | |
| --- | --- | --- |
| | | Listen to Corpsy on 'In Bed With Dr. Sue' (fast forward to 12:30): blogtalkradio |
The Morning News Features Girls and Corpses
| | | |
| --- | --- | --- |
| | | Girls and Corpses is the Official Media Sponsor of Hollywood Horrorfest March 28th & 29th at The New Beverly Cinema featuring Return of The Living Dead & The Howling. |
| | | |
| --- | --- | --- |
| | | Meet Corpsy and Girls and Corpses at Monsterpalooza March 28th-30th at the Burbank Airport Marriott. This is THE greatest Horror convention in the world! |
| | | |
| --- | --- | --- |
| | | Kim Fowley (music producing legend and founder of The Runaways) speaks to you from his deathbed. Click here |
| | | |
| --- | --- | --- |
| | | Corpsy interviews RIKKI SIX behind-the-screams at the Girls and Corpses Nuclear Summer shoot. Click here |
| | | |
| --- | --- | --- |
| | | Courtney Stodden, Zombies, Sex and Girls and Corpses in the STAR. |
| | | |
| --- | --- | --- |
| | | Watch 'Corpse Matchmaker' on the AWKWARD Show hosted Destin, Rachel and JP with special guests Corpsy, Hollis Ireland, Kendall Karson and Jay Wonder. Fast forward to start watching at 18:20 tradiov.com/la/videos |
Corpsy has completed production of his co-starring role as Eric Morris in Vampire Sorority 3D (From Sterling Entertainment and director Jeff Leroy). Next up, Corpsy will play dual roles in Joe Castro's Terror Toons 3.
| | |
| --- | --- |
| | |
| Robert "Corpsy" Rhine co-stars (as Eric Morris) with Nicole Laino in Vampire Sorority 3D. | Kelly Becker co-stars in Vampire Sorority 3D. |
| | |
| --- | --- |
| | |
| Robert "Corpsy" Rhine (center) co-stars (as Eric Morris) with Nicole Laino (left) and Kelly Becker (right) in Vampire Sorority 3D from Sterling Productions out Winter of 2013. | |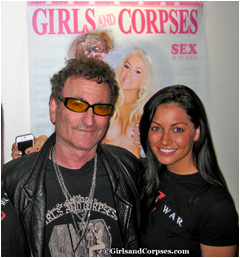 Corpsy is back from The Big Bear Horror Film Festival weekend and the first year of Girls and Corpses as 'Official Media Sponsor.' Special thanks to Executive Director Jamie Kristen and to my great pals Simpat Bishirian and Maggie Boots who truly made it such a killer weekend at our creepy cabin in the woods. Corpsy hosted a media round table panel along with Christopher "Dorner" Jiminez (Sinful Celluloid), Jack "O'Lantern" Bennett (Blood and Guts web series) and Karen "Piranha" Forsberg. Great to hang with my longtime creature effects pals Alec Gillis and Tom Woodruff Jr. (Amalgamated Dynamics). Girls and Corpses top pick for best short of the festival was "Game" written and directed by Josh MacDonald. The best feature for Corpsy was the documentary 'Beast Wishes' (by Frank Dietz) about fanatic horror memorabilia collectors Bob and Kathy Burns.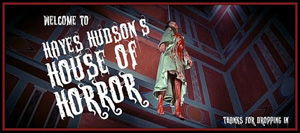 Killer review of our new issue of Girls and Corpses at Hudsons House of Horror.
Great review of Robert "Corpsy" Rhine's graphic novel: Satan's 3-Ring Circus of Hell
| | | |
| --- | --- | --- |
| | | Robert "Corpsy" Rhine (Creator of Girls and Corpses) Co-Stars as S.S. Gestapo Colonel Krieger in the horror film "Nazi Dawn" produced by Tom Cat Films and directed by Dennis Devine. Release in Summer of 2013. |

Read our KILLER review of our spring issue in Cinema Crazed
What a wedding gift! The press loves our new issue of Girls and Corpses with Courtney Stodden on the cover as a blushing bride with her rotting groom Doug Graves. Check out what the press is saying:
E-Online: www.eonline.com/news
France StarBlog: starblogue.sympatico.ca
Too FAB: www.toofab.com
The Blemish: theblemish.com
The Frisky: www.thefrisky.com
D-Listed: www.dlisted.com
961wodz: 961wodz.com
UK Press: uk.emailpress.net
What Would Tyler Durdan Do: www.wwtdd.com
IMDB News: uk.imdb.com
Cliqz Entertainment: www.cliqz.com
Behind-The-Screams video, Corpsy interviews Troma's Lloyd Kaufman part 1 : Emmreport

Behind-The-Screams video, Corpsy interviews Troma's Lloyd Kaufman at a Girls and Corpses cover shoot: Emmreport

Behind-The-Screams of our Girls and Corpses cover-shoot with Lloyd Kaufman, Miss Mosh and Toxie: Emmreport
Corpsy interviews Elissa Dowling behind-the-screams on the Girls and Corpses set: Emmreport
Corpsy interviews Raven Bay behind-the-screams on the Girls and Corpses set : Emmreport
Corpsy and Vegas and porn stars... oh MY!
click here
| | | |
| --- | --- | --- |
| | | Corpsy interviews Nude Bowling stars for EmmReport. Plus behind-the-screams interview with ultra-SeXXXy RAVEN BAY. Click here |