back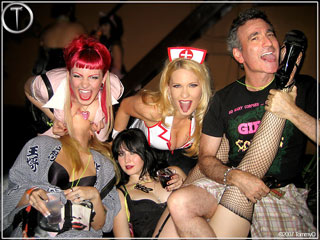 Corpsy had a blast at Sexopolis run by the elusive Vena -- seen here with gal pals Hollie Stevens (her face buried between mellons) and corpse cover girl Mollie Gosline. Next up, Halloween Bondage Ball. October31st at the Henry Ford Theater. Click here for details.
On Sunday September 9th at 2:00p.m. Dark Delicacies will host a signing for two horror anthology books.
Writer Robert Steven Rhine, Lisa Morton, Roberta Lanne, and Editor Del Howison to sign Dark Delicacies:
Original Tales of Terror and The Macabre by The World's Greatest Horror Writers.
Dark Delicacies is located at 4213 West Burbank Blvd, Burbank, CA 91505.
R.S. Rhine on KSEX RADIO with adult film star (and Corpe Body Soap model) CHARLOTTE STOKELY and porn legend CARA LOTT, oh... and corpse, FRIEDA FONDLE. The show is hosted by Baadmaster: http://www.ksex.com/
Read rotting review of Girls and Corpses in Devolution Magazine from the UK. Click here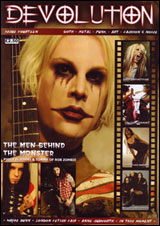 The news is up about Sid and Scout on our cover at Horror.com

Thank God -- The Church has embraced us!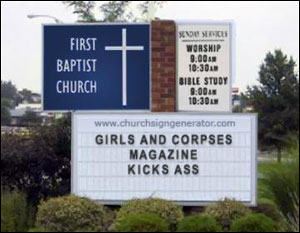 Read Hollie Stevens crazy recap of Comic-Con here with pics!
Click on the clowns. photos by Robert Steven Rhine

Comic-Con was insanely successful for Girls and Corpses Magazine! We thank all you corpse fans who stopped by our booth to say hell-o and pick up a copy of the magazines, Corpse Body Soap, Prison Soap or t-shirts. Special thanks to Danielle Harris (starring in Rob Zombie's "Halloween") who stopped by for a signing and Hollie Stevens ("Clown Porn") who also manned the booth for four days with Girls and Corpses Publisher/Deaditor-In-Chief R.S. Rhine. Here are a few memory shots from the con of all cons:
Click here for larger versions and more pics!
After years of Comic-Con exhibiting, I've assembled a list of the types of people who approach vendors booth's.
Click here to enjoy my Comic-Con Etiquette,

RIP,
The Grin Creeper
Girls and Corpses in Bizarre Magazine!
Click to enlarge

"Our favorite Magazine Girls and Corpses has arrived!"
Bizarre Magazine

Want to see a wacked out party? Check out Corpsy and friends at The "Captivity" party. Be aware that few of these photos
are of an adult nature and not work safe: Exclusive Captivity Party Photos by Enzo Giobbe
Girls and Corpses Enters Bondage Ball
Ah... Bondage Ball... the smell of leather, vinyl and sweat... the crack of the whip and piercing squeal. And that was just waiting on line out front -- for over an hour! There is something so un-sexy about seeing the bondage crowd in bright street lights -- pot bellies hanging over vinyl waistbands -- cottage cheese bulging through fish nets. It's like a frightening episode of The Most Dangerous Catch. I heard from my friend Baad Master, before we got inside, that they were behind schedule and his electro-play model was late. Can you imagine being late to your own electrocution? The nerve!
Bondage Ball took place July 2nd at the Henry Fonda theater on Hollywood Blvd. I'm sure Mr. Fonda would have been so proud to be hosting such an event. I was invited to Bondage Ball by Mistress Vena, who appears in issue #2 of Girls and Corpses Magazine. I brought along Girls and Corpses cover girl, and calendar sexy G&C model, Molly Gosline, who is an adventurous sort and just twenty-two. I so love corrupting the youth of America.
After the tedious wait on Hollywood Blvd (even with VIP and press credentials), where we were ogled by passing motorists gawking at the freak show, we bravely stepped into Bondage Ball, actually jumped in, on top of a human carpet. That's right, a guy laying shirtless on the floor as a sign encouraged you to hop, skip and lump, digging your stiletto heels into the groin and beer belly of this floor bound masochist. Inside the theater was a circus of depravity -- and it was goood. Upstairs and downstairs you could watch a variety of bondage and fetish activities. But mostly is was a people watching event and it doesn't get better than Bondage Ball. Things really got rolling after midnight and the hotties came out (thank Gawd) . Molly pointed out actors such as Jared Leto -- who I've never heard of -- and rock stars who Molly recognized.
A few images lodged in my brain: A legless double amputee man whipping a young bind-folded girl; girls having wings literally pinned to their backs and the patriotic fem with a flag tattooed on her bare chest while a rubber gloved tech pierced a hundred needles into the pattern of old glory hole; and girl being lit up like a Christmas tree by an electric wand. The new trend in bondage seems to be knife play. Real sharpened blades dragged sensually across the bodies of subs by doms. I don't know why but I kept thinking of OJ Simpson.
They also had belly dancers and slaves handing out some surprisingly tasty fresh fruit. The strawberries were sublime. I put grapes between Molly's toes and I think I stared a new fetish as observers gazed on. I particularly enjoyed the area downstairs where you could have your photo taken that a class reunion of freaks. Naturally, I had my pictures taken with Molly -- choking her.
There are these Bondage Balls across the country -- so don't miss out -- if only to get to walk on the human carpet! More pics and info here . I give them two balls up... waaay up.
This has been your Corpsy Minute.
(Photos with T's by Tommy O)
| | | |
| --- | --- | --- |
| | | |
| Girls and Corpses Deaditor-In-Chief Robert Steven Rhine and Molly Gosline at Bondage Ball '07 | | |
Click here to play The Corpse Caption Contest and WIN!!
Blond Magazine (in Germany) is featuring Girls and Corpses Magazine in this months issue. Das is good... and dead. To order: www.blondmag.com
Girls and Corpses Magazine has received honorable mention at the New York Book Festival in the category of zines! Click here for full list of winners

Fangoria was killer this year at our Girls and Corpses booth and we thank all of you fan-addics who bought a copy of our premiere issue, our calendar, t-shirt or corpse body soap. We enjoy meeting our sick fans face-to-face and here are just some highlights:
| | | |
| --- | --- | --- |
| | | |
| Girls and Corpses Publisher/Deaditor-In-Chief Robert Steven Rhine with Fangoria Magazine Founder and Publisher Tony Timpone | Headsick Pinup, Durga, is scarred from reading Girls and Corpses Magazine. | Gravedigger and G&C henchman Kevin Klemm with the Living Dead Girls at the Girls and Corpses Magazine booth. |
| | | |
| --- | --- | --- |
| | | |
| Director Frank Darabont (The Shawshank Redemption, The Green Mile) with his new Girls and Corpses t-shirt. | The original Mike Myers from "Halloween", Tony Moran, takes care of G&C Corpsepondant Hollie Stevens at the Girls and Corpses Fangoria booth. | The Suicide Girls meet Girls and Corpses Magazine. |
| | | |
| --- | --- | --- |
| | | |
| Stephan Miller, co-publisher of Girls and Corpses Magazine, with Little Red Headsick. | Porn stars and Corpse Girls Belladonna and Hollie Stevens, who recently worked together, have a reunion at the Girls and Corpses booth -- sans props. | |
Watch and listen to Girls and Corpses Founder R.S. Rhine on You Tube
R.S. Rhine interviewed on PInk Raygun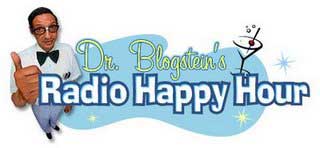 Listen to Corpsy on Dr. Blogstein Radio:
drblogstein.blogspot.com
Horror 101 grades Girls and Corpses Magazine:
www.horror-101.com
Mark & Brian were talking to Quintin Terentino on their #1 KLOS radio show when Quentin saw Girls and Corpses Magazine in the studio. Quentin picked it up and said, "What's this?" On the air, Mark said it was just sent to them, check it out. Quentin looked at Girls and Corpses magazine and was really interesed. When Quentin got up to leave, after his interview he wanted to take G&C mag but Mark and Brian wouldn't give him 'their' copy. They all mentioned the title a few times on the show -- all with excitment. (Deaditors note: Coincindentally, that night, Quentin Tarentino got a copy of G&C when it was handed to him at a screening by our Entertainment Corpsepondant Staci Layne Wilson).
Magazine and calendar Review by Neo-Zine Magazine:
"Is it possible that a magazine can get get any better than this? This has got to be my all time favorite rag ever."

Premiere Print Signing at Dark Delicacies Bookstore
in Burbank where "zombies meet to eat."

Girls and Corpses Publisher/Deaditor-In-Chief Robert Steven Rhine is joined at the premiere print issue signing with gorgeous actresses Alana Curry ("Revamped") and Bai Ling ("Shangai Baby") -
Our first print issue review:
www.icansmellyourbrains.com
Listen to Publisher / Deaditor-In-Chief Robert Steven Rhine (aka Corpsy) on
Rue Morgue Radio March 26th - April 1st
www.ruemorgueradio.com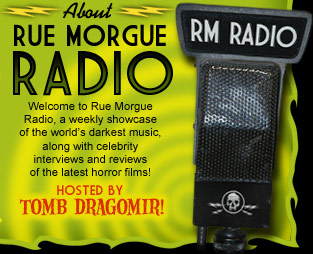 Celeb fans at Wizard World:
| | |
| --- | --- |
| | |
| Writer Steve Niles ("30 Days of Night") at Wizard World with his Girls and Corpses calendar. | Actor Lou Gosset Jr., An Officer and a Girls and Corpses fan. |
| | |
| --- | --- |
| | |
| The founders of Suicide Girls meet the Girls and Corpses calendar | Jeri Manthey from Survivor with her Girls and Corpses calendar |
Snapshots from Haunt-X
| | | |
| --- | --- | --- |
| | | |
| Actress Barbara Nedeljakova (Natalya in "Hostel") gets her Girls and Corpses t-shirt | G&C cover girl and calendar model Molly Gosline | ABC Hollywood Entertainment Reporter David Sheehan with porn ingenue Hollie Stevens |
| | | |
| --- | --- | --- |
| | | |
| George Romero ("Night Of The Living Dead" etc etc) with Molly Gosline | Girls and Corpses gravedigger Kevin Klemm with George Romero (um... on the right | |
| | | |
| --- | --- | --- |
| R.S. Rhine guests on KSEX radio hosted by Baad Master | | |
| | | R.S. Rhine reclines in the middle of a porn creme cookie |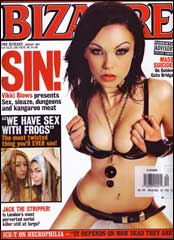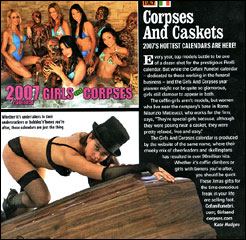 We have made Bizarre Magazine for the fourth time, calling Girls and Corpses one of the hottest calendars of the year!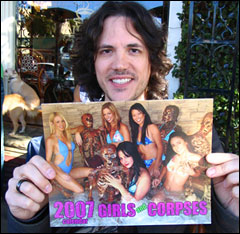 Nick Palumbo, director/writer of the highly controversial graphic horror film "Murder--Set--Pieces" (Lionsgate), fondles his copy of the 2007 Girls and Corpses Calendar -- moments before murdering Deaditor R.S. Rhine
Robert Steven Rhine (Publisher / Deaditor-In-Chief of Girls and Corpses Magazine) will be signing at the AVN Adult Expo at The Sands Hotel in Las Vegas on January 12 & 13th with porn pals Hollie Stevens and media darling Miss Howard Stern, at the Pink Visual Productions booth. Click here for more info and tickets.

Three interviews with R.S. Rhine bound to change your outlook on life... and death.
Our three December Girls and Corpses calendar signings were a huge success. We thanks the fans, models and corpses who showed up:
| | | |
| --- | --- | --- |
| | | |
| Porn Star Hollie Stevens, Girls and Corpses Deaditor-In-Chief Robert Steven Rhine, and porn star (AVN starlett of the years nominee) Charlotte Stokely | Kevin Klemm, grave digger for Girls and Corpses Magazine | Hollie Steven and Charlotte Stokely |
| | | |
| --- | --- | --- |
| | | |
| Charlotte Stokely signs the Girls and Corpses Calendar R.S. Rhine and Hollie Stevens | Hollie Stevens, Stephan Miller (Calendar Publisher), Charlotte Stokely and Publisher / Deaditor-In-Chief R.S. Rhine | R.S. Rhine and Hollie Stevens |
Read R.S. Rhine's controversial interview in Small Fish Magazine
Watch behind-the-scenes stream video of the Tom Green cover shoot for Girls and Corpses Magazine with Deaditor R.S. Rhine. Click here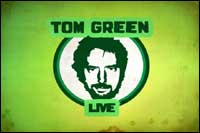 More Fright Night Photo Goodness! Click here

The Girls and Corpses Magazine Premiere Party and Open Casting was a rotting success!
Click here for photos

Sirius Satellite Maxim Radio will welcome Robert Steven Rhine as a radio guest on Halloween Tuesday October 31st. at 8:00pm. Rhine will tell Maxim where the bodies are buried... literally.



Robert Rhine will once again be a guest on WMMS Radio's The Big Dumb Fun Show on Monday October 30th at 5:30pm west coast time. with hosts, Frank, Venkman and AG.


| | |
| --- | --- |
| | |
| Robert Rhine and pal porn star Hollie Steven at Hyaena Gallery with one of The Ed Gein Collection originals | Clown Porn star Hollie Stevens models the new Girls and Corpses t-shirt. |
Girls and Corpses Deaditor-In-Chief R.S. Rhine guested on KSEX radio with host Baad Master. Rhine brought corpse girls: Dana DeArmond, dancer Molly and Kasey Poteet. Click here for pics.
Friday 13th turned out to be a very lucky day for Girls and Corpses Magazine. It all started with an interview with Deaditor-In-Chief R.S. Rhine and Miss Howard Stern (aka Andrea) on Sirius Playboy Radio. On the show, Miss Howard Stern smooched with show host porn legend Ginger Lynn and all was good in the world. Our Friday 13th Premiere party and open casting was packed and we even survived the early rain. Thanks to all you zombies who made it and stayed to the bitter end. A special corpse thanks to Bob and Carl of The CIA and Noah Korda from Fright Night for hosting the Girls and Corpses event. Click here for pics
Miss Howard Stern and R.S. Rhine were guests on Sirius Playboy Radio. Click here for exclusive pics!!

2006 DIY Anthology WINNER: "Satan's Three-Ring Circus of Hell" -- Robert Steven Rhine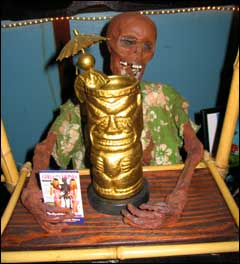 We had a Tiki good time at Tikis and Terrors Art Show and even sold some shit.
| | |
| --- | --- |
| | |
| Deaditor-In-Chief R.S. Rhine was interviewed for the Halloween issue of Think (again) Magazine (Prague CZ). | The Halloween edition of Mass Movement Magazine UK (issue #19) will feature a diabolical interview with G&C's R.S. Rhine, Municipal Waste, Bloodhound Gang, Chris Jerico, Funeral for a Friend, Excel, and much more! |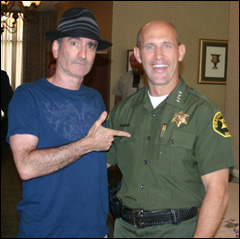 Girls and Corpses Deaditor Robert Steven Rhine gets the draw on the Sheriff of Orange County, Michael S. Carona. Both were keynote speakers at the Regional Gathering of Mensa. After this photo, Rhine was tazered by the man in black behind them and taken back to lockup.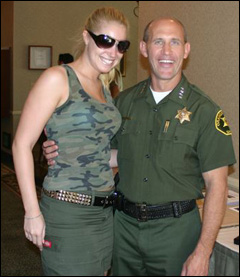 Orange County Sheriff, Michael S. Carona, greets Clown Porn star Hollie XXX Stevens at the regional gathering of Mensa -- here Hollie spoke on new knitting techniques and bondage ties. The Sheriff auditioned for a cameo in "Clown Porn Crime Watch." *Note the matching outfits. (photos by John Olsen)
Girls and Corpses meets Rue Morgue!
Issue now on the stands.
Click here to read the article
R.S. Rhine was a guest on VM Underground Radio. Listen here (just scroll down to Rhine interview)
G&C Deaditor in Chief Robert Steven Rhine and Girls and Corpses contributing writer Hollie Stevens will be special guest speakers at Mensa at the regional gathering in Orange County on Friday September 1st. The event is open to Mensa members only. That means people smarter than you -- and definitely me. More info: www.orange.us.mensa.org
R.S. Rhine and Kevin Klemm of Girls and Corpses Magazine, along with Jim Smith (Creator of "Ren & Stimpy)" will be featured as a Special Guests at :

The 911 Concert
Musical Performances by: Tina Digeorge, Joe Baiza, Thirst, Hollywood Harlots, Third Brade Teachers. Kinsizemaybe, Boll Weevil

Monday September 11th at Safari Sams
5214 W. Sunset Blvd in Hollywood
10.00 admission at box office

Click here for the groovy flyer: www.lazyskin.com/911concert.html
In 1994, Robert Steven Rhine was filmed as Rod Serling for The Twilight Zone Tower of Terror Ride in Disney Orland Florida. For ten years, it was a secret who portrayed Rod Serling for the ride. But it finally was revealed that Rhine was the ride's host impersonator and now, twenty years later, he's featured on a new website devoted to The Tower of Terror Ride. That site, Service Elevator.com will be up and dropping thirteen stories on August 28th.
Rhine rode the ride for the first time which was recorded for posterity on 8-12-06. He found it terrifying...as advertised. Check the out this amazing website starting on August 28th at: serviceelevator.com
| | |
| --- | --- |
| | |
| Then: R.S. Rhine films the Tower Of Terror Ride for director, Joe Dante (Masters of Horror) | Now: R.S. Rhine channels Rod for the Twlight Zone Ride and the Service Elevator.com site. August 2006 |
It was a blast on Sirius Satellite / Playboy Radio with hosts Christy Canyon and Ginger Lynn (who was terrified to be in the same room with our corpses). I want to thank our corpse girls actress Tiffany Shepis and model Molly, who joined in the hour show and helped make it sick and twisted.
| | |
| --- | --- |
| | |
| From LT: Horror wench Tiffany Shepis (actress in 50 films), porn vet Christy Canyon, Girls and Corpses Deaditor Robert Steven Rhine and dancer/model Molly Gasline after the wild show on Playboy Sirius Satellite Radio. | Actress Tiffany Shepis, (Nightmare Man) Molly and Candy (the corpse). |
| | |
| --- | --- |
| | |
| Tiffany Shepis and Molly join R.S. Rhine on Sirius Radio. (Rhine's the corpse in the middle). | Porn icon Ginger Lynn, gives Girls and Corpses Deaditor R.S. Rhine a leg up at Playboy Radio. |
Watch Deaditor-In Chief R.S. Rhine on Eye Candy Adelphia/Time Warner channel 10 all during August:


Santa Monica & all Adelphia systems - Thursdays at 8:00 pm
Chino/Chino Hills: Mondays at 6:30 pm & 9:30 pm
Anaheim/Fullerton/BreaLa Habra/Santa Ana - Tuesdays at 9:00 pm
Diamond Bar/Rowland Hts. - Sat. & Sun. at 5:00 pm and Thursdays at 7:00 pm & 11:00 pm

The schedule is subject to change, however it should be pretty solid. Check www.adelphiachannel.com and click under the "Eye Candy" show.

LIVID LOOKING GLASS show number 19 features the return of naughty-minded guest Robert Steven Rhine. We discuss the madness in Robert's life while sipping absinthe provided by our friends at Absinthe America and incidentally learn the dangers of imbibing on the green fairy while trying to record a podcast. The show features music by Attrition, Babylonian Tiles, Sophya, Inertia, Ailanthus, Swarf and The Tiger Lillies. Click here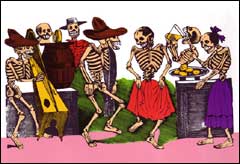 FRIDAY OCTOBER 13th 2006

GIRLS and CORPSES MAGAZINE grand gala kick-off party!
Time: 8:30 p.m. to 2:00 a.m
Where: The CIA (Center For Abnormal Arts).
11334 Burbank Blvd North Hollywood CA
Just in time for Halloween -- and on Friday the 13th! – you are cordially invited to Fright Night! This will also be a HUGE open casting for girls and models who want a shot at being on the cover of Girls and Corpses -- the hottest new genre magazine on the web – now generating 2.5 million visitors a month.
There will be celebrities, food, door prizes from horror films, bad movies on big screens, amazing bands and, of corpse, hot girls in bikinis and lots of rotting corpses. Our previous models will be in attendance including: Playmate cover girl Christa Campbell, Wendy Kremer, Melissa Carnett, Tiffany Shepis, Hollie Stevens and many others including all our corpse stars; Slashed, Rotten Eddie, Lepricorpse, Stinky, Rotting Rabbi, Santa Corpse and Brain Dead Bob. And when was the last time you were at a Halloween party on Friday 13th!!
Okay, so there is a be a ten dollar entrance fee at the door into the event. But part of the money will go to the Cuddle a Corpse Foundation.
So put this in your calendar for October Friday 13th... and be there... or be dead!
This is guaranteed to be one of the strangest events in recorded history.
www.batsday.net/frightnight/location.htm
THIS IS THE BIG ONE!!
| | | |
| --- | --- | --- |
| The prestigious Stoker Award as been awarded to an anthology in which Robert Steven Rhine's story, "The Seer," was published. "DARK DELICACIES: ORIGINAL TALES OF TERROR AND THE MACABRE" (Carroll & Graf) featuring stories by such writers as: Ray Bradbury, Clive Barker, Richard Matheson, William F. Nolan and Robert Steven Rhine, has won the highest honor in horror fiction, The Stoker Award for Best Horror Fiction. The Bram Stoker Awards are the horror equivalent of the Nebulas, awarded "for superior achievement" voted by members of the professional Horror Writer's Association. More info on the book at: www.darkdel.com | | |
| | | The Stoker Award -- for greatest achievement in horror fiction |
Robert Steven Rhine and Kevin Klemm with be special guests this Thursday June 15th from 9 - 10:00 p.m. on the one year anniversary of Geek Rawk on MusicPlus TV
Rhine and Klemm will premiere a behind-the-scenes video of their Howard Stern shoot for Girls and Corpses Magazine -- which took place at the MusicPlus TV studios with Geek Rawk co-host, Kasey.


Fangoria's weekend of Horrors was a huge success for Girls and Corpses Magazine and "Satan's 3-Ring Circus of Hell." R.S. Rhine sold a slew a books and t-shirts and Kevin Klemm sold his skull bowls and made contacts with the thousands of Fangoria fans and celebs for the three day event.

Click here for more pics

Billy Moseley ("The Devil's Rejects") with writer R.S. Rhine at Fangoria's Weekend of Horror
It was a happy 6-6-06 on Geek Rawk and Music Plus TV as guests R.S. Rhine joined the cast of freaks for the joint 666 birthdays, of host Kasey and producer Kevin.
| | | |
| --- | --- | --- |
| | | |
| Devilish Host of GEEK RAWK on M+TV, Kasey, celebrates her 6-6-6 birthday with guests Wendy Kremer (2001 Maniacs) and R.S. Rhine (Satan's evil twin) | Producer of Geek Rawk, Kevin, gets his birthday wish as he watches host Kasey blows out the candles while staring at her breasts. | Wendy Kremer (Jaws from 2001 Maniacs) steals the show and the microphones as Tim Sullian (director 2001 Maniacs) and Fu Man Chu look-alike Spooky Dan peer on, aghast. |
| | | |
| --- | --- | --- |
| | | |
| Reverend Mitz from Music Plus TV walks his pet bitch before the show. She's paper trained. | R.S. Rhine (creator of Girls and Corpses Magazine) uses a choke chain to subdue his cleaning lady. | Super model for Girls and Corpses Magazine, Mona, is interviewed on Geek Rawk. |
Fri. Sat. & Sun. JUNE 2-4, 2006 R.S. Rhine and Kevin Klemm will be exhibiting at:
Fangoria's Weekend of Horrors
BURBANK, CALIFORNIA
Burbank Airport Hilton and Towers
2500 Hollywood Way


On Saturday June 10th from 6 - 9:00 p.m.
R.S. Rhine will be signing "Satan's 3-Ring Circus of Hell" at:
TAIX restaurant
1911 Sunset Blvd. LA CA 90026
Jim Smith (Co-creator of Ren & Stimpy") will be playing with his band Freehead

Famed animator and also creator of "Ren & Stimpy" John Kay will be attending as will porn prodigy Hollie Stevens and Kevin Klemm of the Ed Gein collections. Other artists attending include: Frank Forte (Vampire Versus, Billy Boy), D.W. Frydendall (the Haunted Mansion), Frank Dietz (Disney Animator), David Hartman (Spiderman MTV), Eric PIgors (Toxic Toons) Tone Rodriguez (Violent Messiahs), Mark Covell ( Family Guy, Bryan Baugh (Midnight Terrors), Mike Sosnowski (Toonsylvania)
See Robert Steven Rhine in Bikini! Click here

Girls and Corpses meet APE in San Francisco, at the Alternative Press Expo:
| | |
| --- | --- |
| | |
| Hollie Stevens (star of "Clown Porn") models her furry slippers at The Alternative Press Expo -- a gift from Girls and Corpses Publisher R.S. Rhine | Ron Turner (center) legendary originator of Last Gasp Comics (that launched ZAP comics, R. Crumb and the whole underground comic books movement in the 60's) joins XXX porn star Hollie Stevens and writer R.S. Rhine at their APE booth in San Francisco. |
| | | |
| --- | --- | --- |
| | | |
| Jim Smith, co-creator of "Ren & Stimpy" provided non-stop music throughout the two day exhibition. Jim wrote and played the theme song for The Ren & Stimpy Show and also tours with his band Freehead. | Jim Smith, comic book boy genius, poses with Hollie Stevens, porn prodigy. | The lovely Hollie Stevens, goes where no porn star has gone before, deep throating a human eyeball. |
| | |
| --- | --- |
| | Our grave digger Kevin Klemm of The Ed Gein Collection was interviewed by The Haunted Report: Read about it here: www.hauntedreport.com |
| | | |
| --- | --- | --- |
| | | |
| | | |
| | | |
| Girls and Corpses Magazine is featured in the March edition of VIRUS Magazine (Europe's leading horror magazine). Dr. Virus interviews Robert Steven Rhine about where the bodies are buried. | | R.S. Rhine is inteviewed in the April '06 issue of Red Scream Magazine |
Livid Looking Glass Magazine Podcast: Show number 4 is co-hosted by Robert Steven Rhine, the editor of Girls And Corpses webzine and author of MY BRAIN ESCAPES ME, the comic books SATAN GONE WILD, CHICKEN SOUP FOR SATAN and SATAN'S 3-RING CIRCUS OF HELL and other delightfully twisted publications. The show features music by The Tiger Lillies, No Tears, Echo Us, Dance Planet X, Daemonia Nymphe, CTRL, Smoke & Mirrors and Count Smokula. Listen to podcast now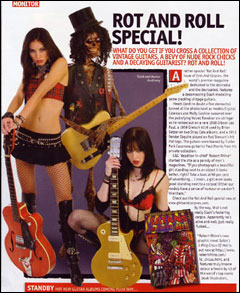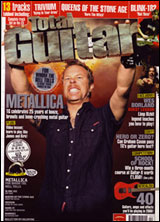 G&C Magazine is featured in the April '06 issue of Total Guitar Magazine (Europe's leading music magazine)
Mass Movement Magazine UK - March 2006 Edition - Interview with R.S. Rhine

"Okay... so Haunt-X didn't suck, after all. I had been warned, several times about the dangers of Haunt-X. Not one to shy away from horror, I went with the flow (actually against the flow in bumper to bumper traffic to LAX) and commandeered my Girls and Corpses booth at Haunt-X for two days in February. I give Haunt-X, four bloody stumps, way up, for the way they handled the convention. Very well organized. Lots of fans showed up, B (really C) celebs, and horror aficionados and probably a few serial killers. My corpse wrangler at Girls and Corpses Magazine shared the booth and the rotting cadavers stopped many in their tracks. My only complaint was being in the back near the hissing and thumping pneumatics. That and the sound loop from "The Exorcist" movie soundtrack which is still playing on a loop in my head, "Mother! Mother!!!" It's enough to possess you. But that's what Haunt-X is all about -- murder and mayhem and they did a bloody good job. I would exhibit at Haunt-X again, gladly, in another booth... by the front.
| | | |
| --- | --- | --- |
| | | |
| Michael Berryman ("The Hills Have Eyes") can't take his off the horrific "Satan's 3-Ring Circus of Hell" | Bill Moseley ("The Devil's Rejects") points out the Spawn of Satan, R.S. Rhine, while Reggie Banister ("Phantasm") figures out how to pick Rhine's pocket. | Leatherface, R.A. Mihailoff (star of "Chainsaw Massacre" III) wears his G&C t-shirt, moments before breaking Rhine's neck. |
| | | |
| --- | --- | --- |
| | | |
| R.S. Rhine shares a corpse with actress JULIAN BERLIN ("The Darkroom," "Death By Engagement" "Domino") at Rhine 's Haunt-X booth in Los Angeles to promote Girls and Corpses Magazine. | Eileen Dietz (Captain Howdy)from "The Excorcist." Of the food at Haunt-X, Eileen felt like puking pea soup. (Actually, she told me it was Andersons). | R.S. Rhine and Kevin Klemm sharing a tender moment between excavating corpses. |
| | | |
| --- | --- | --- |
| | | |
| R.S. Rhine and bloodthirsty fan at Haunt-X (with a see through dress). | Makeup legend (also actor and director) Tom Savini visits Rhine at his Girls and Corpses booth. | Find the scary picture. |
Magazines:
Maxim Magazine (UK, Sept 2005) – Article.
Maxim Magazine (Czech, Sept 2005) – Article.
FHM Magazine (Germany, Sept 2005) – Article.
FHM Magazine (France, Sept 2005) – Article.
FHM Magazine (Singapore, Sept 2005) – Article.
Bizarre Magazine (UK, Sept 2005) – Article
Bizarre Magazine Special Calendar issue: Girls and Gimps
Stuff Magazine (U.S. January 2006)
Penthouse (Australia, Oct 2005) – (Halloween issue) Article.
Total Guitar Magazine (Europe's #1 music magazine) April 2006 issue
CKM (Eastern Europe) Article
Fangoria Magazine (American's leading horror magazine) Interview
Rue Morgue Magazine (2006)
Virus Magazine (Europe's leading horror mag) March 2006
Heavy Metal Magazine (Nov 2005)
Mass Movement (UK, March 2006)
Red Scream Magazine (April 2006)
Radio:

WMMS Rocks Cleveland 100.7 FM (Rhine guested twice)
The Big Dumb Fun Show - The highest syndicated and listened to show on the Internet (R.S. Rhine guested with Venkman)

Ocean 98--WOCM--98.1 FM
"Bulldog and the Rude Awakening"
Broadcast throughout Maryland, Delaware, Virginia, and New Jersey.
Also heard on the Internet at www.irieradio.com

98ROCK Baltimore "Kirk, Mark & Spiegel" Morning Radio

Cable TV:

Adelphia Cable: Horror / Kung-Fu Theatre (Oct 2005) – Halloween Show

Internet TV:

Music Plus TV - Geek Rawk With hosts Don and Kasey
Music Plus TV - Aural Salvation with host Rev Mitz -

PODCAST:

Rotting Flesh Radio (Dec 2005) (2 times) - Interviews with R.S. Rhine and Kevin Klemm
Livid Looking GlassLivid Looking Glass Magazine Podcast: Show number 4 is co-hosted by Robert Steven Rhine.
| | | |
| --- | --- | --- |
| | | VIRUS - March, 2006 |
| | | | |
| --- | --- | --- | --- |
| FHM France - September 2005 | | | Bizarre UK - September 2005 |
| | | | |
MAXIM UK - September 2005
Australian Penthouse - October 2005